Office for Communications Data Authorisations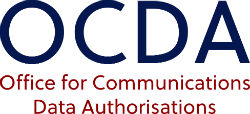 What the Office for Communications Data Authorisations does
The Office for Communications Data Authorisations considers requests for communications data from law enforcement and public authorities.
OCDA works with the Home Office.
Contact OCDA
General enquiries
Freedom of Information (FOI) Act
This organisation is not covered by the Freedom of Information Act. To see which organisations are included, see the legislation.
Corporate information
Jobs and contracts